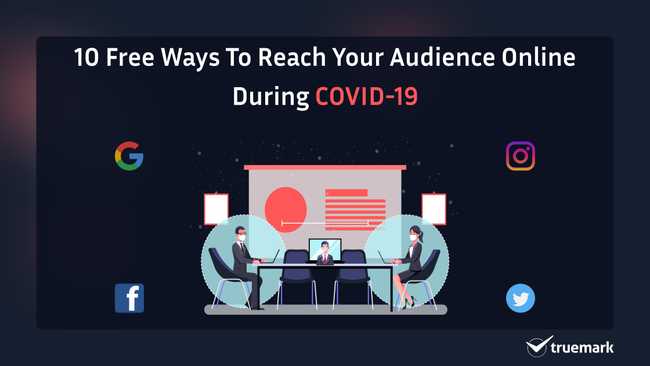 The COVID-19 has made many small businesses cut off their budget in production as well as marketing. Mostly, the marketing side is hampered right now. Paid ads, display ads, and search engine marketing might be costly depending upon the budget of the small businesses. So, there is a bigger chance that the company and its products might vanish during this lockdown period because of less or no exposure at all.
Because of Coronavirus people are staying indoors and they are spending maximum time on-screen staying online on social media and other different channels, this might be a blessing in disguise to market your business and your products.
You can easily reach your audience without paying a single penny by using platforms like Google, Facebook, Instagram, and Twitter. There are lots of cool features and strategies which will help you bring your audience in one place. You can engage with your community, entertain them, and even bring value to them every day using these platforms.
We will be emphasizing on the following four platforms which will help you reach your audience online during the COVID-19 phase:
Google
Facebook
Instagram and
Twitter
Also, these techniques and strategies will help you grow your business in the post COVID phase too. Who would not love to adapt free strategies to grow their business?
One quick note before we start discussing on this section:
While writing this post we have seen the features of Google My Business changing and varying every day or a two in response to COVID-19. So, if you get stuck on any of the following techniques or strategies just skip them and be on the lookout for the capabilities to return.
1. Update Your Google My Business Profile
Your Google My Business profile is the free listing that appears on behalf of your business both on Google Maps and Google Local Search results. Due to the timings, special hours, physical closings, and limited travel, consumers are searching for even more "near me" and "open now" places on Google during the COVID-19 situation. They're also searching for specific criteria like online payment options and delivery options. So, by regarding all these facts, you as a business owner should make the following updates in your Google My Business profile to continue to reach your audience on Google:
Verify your open hours, also, you can mark your business as temporarily closed.
Update your description so that people know if you are closed or you are working from home.
Select a business category, as this will allow you to indicate industry-specific attributes, such as a software company or restaurant or any other type of business.
Create posts to engage your audience. We will discuss more on this on the second point.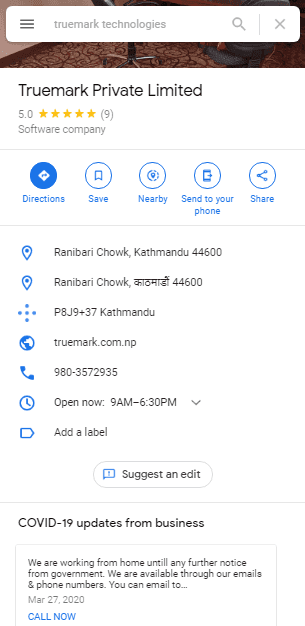 2. Create Google Posts
Just like in the social media platforms we use, you can also publish posts to your Google My Business listing for free.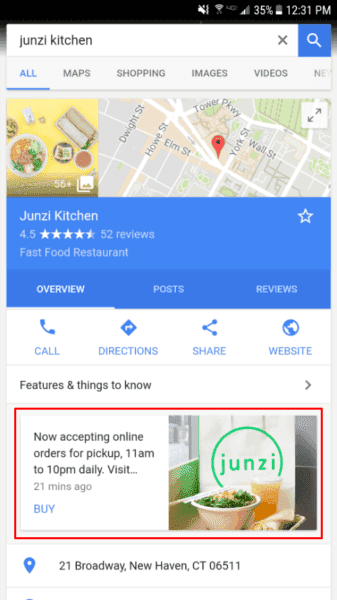 Image Source: Searchengineland
The users are just unnecessarily scrolling on social media platforms and your post won't interest them there. But unlike in social media platforms, consumers on Google are actively searching for such posts and they don't go unnoticed at all. Google My Business posts help you to post updates and special offers in front of consumers who are all set to engage with your posts. And eventually, they will buy your products too. So, just by creating a google post might help you a lot to reach with the audience and even make sales conversion.
3. Write Relevant Blog Posts
The Internet has a lot of COVID-19 content by now. But that doesn't mean that you can make it up to the 1st page of Google search results. The thing is that you should focus on long-tail keywords so that you can exactly define your niche. For example, you could write a blog post like "Ways to increase productivity while working from home" so that people could get an idea about working effectively and efficiently from home during this lockdown period.
Creating these types of content would cost nothing but your time but in the long run, this will definitely help your business.
We at Truemark, have the best content writers who can write the best blog posts for you.
Bonus Strategy: Create a free Google Shopping listing
Google announced the rollout of free Shopping listings to all retailers so that they can find more customers online during this phase of COVID-19. This update was released by Google on April 21. Why not give it a try?
Almost all the people are spending so many hours on social media and Facebook is one of the most used social media out there. Social media can be a key component to build relationships with your customers, audience as well as other people. So, using Facebook, you can reach your audience for free during this COVID-10 era.
Below, we will be discussing the techniques and strategies to reach the audience during COVID-19 using Facebook.
4. Go Live on Facebook
Almost everyone is going live these days and many people are watching live videos ever than before. Facebook live viewers have increased by up to 50% reports Cnet.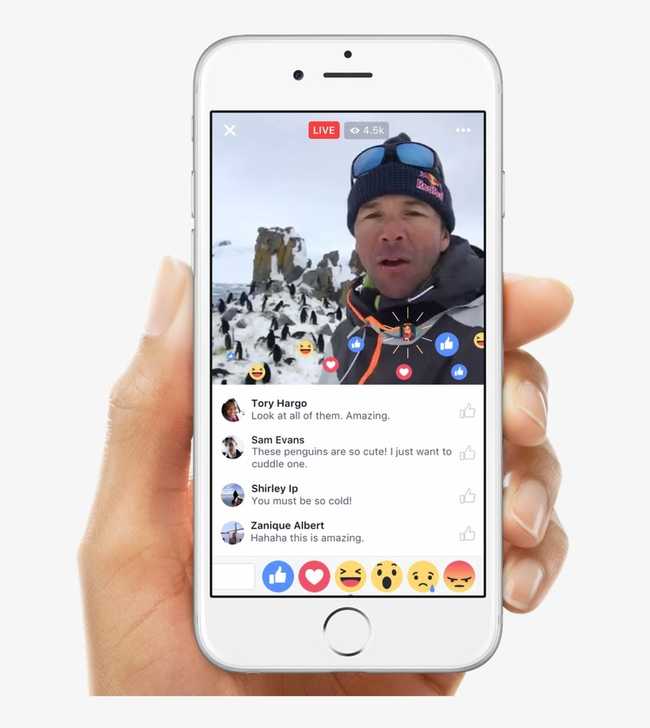 Image Source: Nicepng
More people are watching live videos right now than ever before. In fact, Facebook Live viewers have increased by up to 50%. You can engage well with your audience with this feature. You can entertain them, you can get feedback, you can provide advice, and you can provide value to them through Facebook Live. The best part is it is interactive and it can be saved on your wall too. So, the users can see your video while you are going live and even after hours or days or months.
Likewise, we, at Truemark, are utilizing the Facebook Live feature at its most and we are organizing live Quiz Game on our QuizPoint Facebook page everyday during this lockdown period. We are doing our best and we have been successful to reach and engage with our audience and expand the audience reach so far. We are really happy with the results and we couldn't ask for more.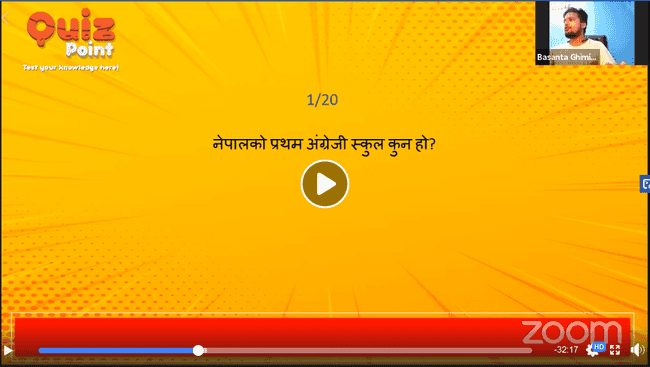 5. Do a Giveaway
If you're open and are providing a delivery facility, it would be very good to add an extra delight to your deliveries. Create a giveaway post and post it on your wall. More people will get engaged to that post for sure as everyone would love to receive free giveaways.
Meanwhile, your post will perform well and will have more engagements too. So, it will also help you bring new audiences and potential customers. Also, your post might get special attention and can go viral as well.
You can do the lucky draw to choose the lucky winners.
6. Engage With Your Community
If you have already formed a Facebook group for your audience and customers then it is the best time to engage with them. Become genuine and ask them about how they are doing. This will help you become close to them and they will be loyal with you too.
You can also ask for suggestions, give advice to them, and entertain them as well.
Instagram is another most used social media. Like Facebook, you can also use it to connect and reach your audience for free.
7. Use COVID19 Hashtags
Hashtags are a free and yet powerful technique to expand your visibility in social media. There are so many trending COVID19 hashtags that have already taken over social media. You will fail to reach your audience if you use broad hashtags like COVID19. So, you need to be specific while using hashtags. Include your industry or business in those hashtags.
For example, you can use #COVID19Business and #COVID19BusinessSolutions instead of just using the #COVID19 hashtag.
So, you can use #COVID19 as per your niche and business.
8. Write COVID-friendly Captions
Instagram is a great story-telling platform and you can write powerful captions in the posts. You can reach your audience and engage well with them by posting relevant posts and writing powerful captions along with them.
We have mentioned some writing guidelines to effectively reach with your Instagram audience and engage with them:
When boosting morale: Keep the captions light and not so much specific; everyone takes your captions in their own way.
When offering health and safety tips: Research well and write the truthful and exact facts.
When providing updates: Keep the captions very concise and put the most important details only.
When promoting pivoted offerings: Write words like "curbside pickup" or "still available" when you are promoting something.
Twitter is composed of the conversational nature of Facebook and the quicker consumption pace of Instagram. Here are two free ways to obtain visibility and resonate with your audience during COVID-19 using twitter.
9. Repurpose Reviews
Roger Smith Hotel has its own efficient twitter strategy where they take quotes from positive customer reviews and create tweets out of them.
They have been using this strategy throughout the COVID-19 phase and they say that it is working quite well. We can't say that the tweets will attract people to book a stay or leave positive reviews, but those positive words and reviews leave a good feeling among everyone.
10. Take #supportsmallbusiness Offers
There are many consumers on Twitter during this COVID-19 phase who are now offering to promote local businesses in their respective areas. You can run a hashtag search like #shoplocal, #supportsmallbusiness, #shoplocal[yourcity], or #smallbusiness and see if you find any offers. If you find any, just accept them.
If you don't find such offers, then just use the #shoplocal hashtag because it is trending now on twitter and you will receive good responses.
In Conclusion
These 10 strategies are the best free digital marketing strategies to reach your audience for free even during this COVID-19 phase and keep your business going.
If you need any help and want to work with us, please feel free to contact us.